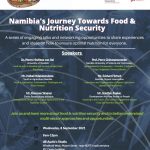 Invitation to a Webinar on "Basic Income Grant (BIG): Cost vs benefit considerations & socio-economic impact for Namibia"
NAFSAN has joined celebrations and awareness raising on Earth Day on 22 April – bringing attention to risks around current plans for fossil fuel extraction in Namibia, which actually seems anachronistic in the age of Climate Change.
NAFSAN participated in the #NoOneIs LeftOutFestival as part of the BIG Coalition in Windhoek on 24 September 2022.
Nutrition for Growth Summit – Tokio (Japan), 7-8 December 2021
World Food Day – Panel Discussion on Organic Agriculture & Food and Nutrition Security in Namibia, Saturday, 16 October 2021 at 10h (am) on NOVA FM
Namibia's National Food Systems Summit Dialogues: Unlocking Resources for Sustainable Development took place between July and September 2021, feeding into the global UN Food System Summit. 
Wed, 7 October: = NAFSAN @ Bank Windhoek's Online Agricultural Series on "Organic Agriculture, Food and Nutrition Security in Namibia"
Tue, 22 September: 1000-Days WEBINAR:  Malnutrition Learning Series: Stories from the Field – 'Wasting Treatment & Breastfeeding Support'
Tue, 8 September: "Adolescent Nutrition in Context of COVID-19 and Beyond"
Mon, 7 September: Launch (PPT) of Survey Report on Journalists' Nutrition Reporting Skills, by CISANU (Uganda)
2-3 September 2020 (online): Namibian Agricultural Conference 2020: "Agriculture Fit for the future – Robust, Resilient and Responsive"
Sun, 5 June: Webinar & Report Launch – How to use COVID-19to build better UHC (Universal Health Coverage) Systems in Africa
Thu, 14 May: Breastfeeding during COVID-19, a Twitter chat: #breastfeedingchat
Thu, 14 May: Free WEBINAR with Dr. David Nabarro: 'The Impact of COVID-19'
Thu, 14 May: Free WEBINAR moderated by WHO AFRO on "Food and Nutrition Essentials in COVID-19"
Tue, 12 May: 2020 Global Nutrition Report – Online Launch, by UNSCN
Thu, 7 May: Free WEBINAR on "Education and Nutrition: Reaching Children during the COVID-19 Pandemic". A Webinar Series by the Global Child Nutrition Foundation
Tue, 5 May: Free WEBINAR on "Maternal, newborn and child health and nutrition in the time of COVID-19: implications for action and research"
Mon, 4 May: Free Webinar on "Nutrivigilance against COVID-19"